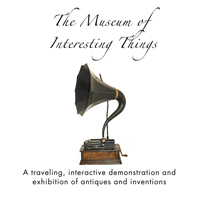 To Book a presentation
or get on the E-mail list
Contact: DennyDanielx@gmail.com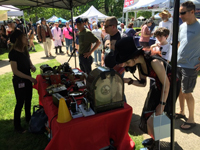 People need something to break either the monotony
or the information overload
We will bring our actual historic items to your audience
eyes & ears to bring back positivity, curiosity & tinkering.
This is a live or virtual interactive presentation with actual antiques
where we have the students interact and learn as much as possible.
Rest assured these are Not pictures of Interesting Things,
you get to see actual items!
You can still choose your theme or subject too.
Eureka! The History of Invention
Magic Lantern, the History of Storytelling show
Our Green Energy show - The Windup Circus
Can You Hear Me Now! The History of Communication
The History of Film and Photography
Retro Futurist / Suffragist / Civil Rights / Computers /
WW2, Cold War, Space Race / Quack Medicine and more!
And we will work with your formate and budget no matter what it is!
Live or Virtually
Schools, hospitals, universities, senior centers, galleries, parties, libraries,
anywhere with a room and people, we'll bring things!
Call or e-mail for details
212.274.8757
Contact: DennyDanielx@gmail.com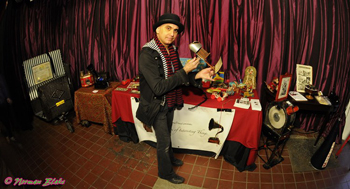 To Support the Museum, Thanks!
Please use Vemno or Paypal as Friends & Family to our email
or my Venmo ID @dennydaniel
or paypal ONLY as Friends & Family
https://www.paypal.me/museumthings

Or I have Zelle under our email